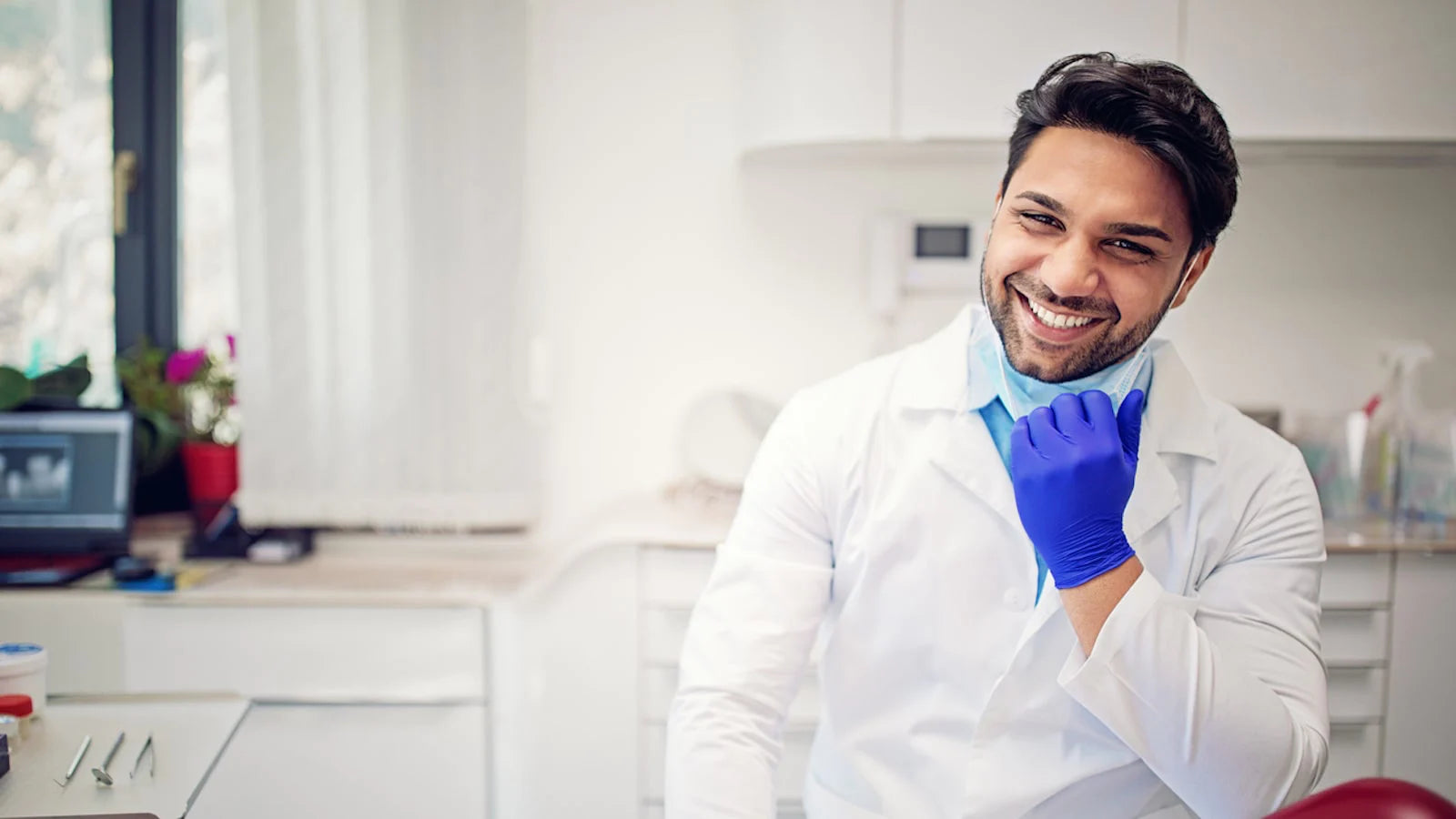 The Best Dental Trade Shows and Conferences You and Your Office Should Attend
Dental trade shows are social and information-sharing events that allow you to expand your dental care education through individual courses, exhibitors, and leading speakers from the dental community. Everyone in your dental office, from the hygienists and dentists to the office managers and front desk professionals, can benefit from these opportunities for continuing dental education. If you'd like for your staff to attend this year's event lineup, you've come to the right place. 
At Weave, we care about the success of your dental practice. Below, we discuss the top national dental events you should add to your practice's schedule. 
Benefits and Opportunities When Attending
Attending any dentistry-related event allows you to expand your education among like-minded professionals. You can enjoy the following benefits and opportunities:
Learn about new, groundbreaking dental equipment

Network with other oral health professionals to broaden your practice's opportunities

Find answers to any challenges you face as a dental professional

Receive quality dental hygiene education

Find general information on industry updates

Take CE courses (continuing education) or use certain events as 

CE credits

Learn how to find new patients

Improve your curriculum vitae (CV) by attending an event in dentistry

Learn skills from specialists (like pediatric dentistry)

Discover global perspectives with experts on international dentistry  

Receive constructive feedback on your work 
The Best Overall Events and Noteworthy Mentions
AADP
The 2023 American Academy of Dental Practice is an annual event occurring this year from March 1-4 at the Hyatt Regency Hill Country Resort & Spa in San Antonio, TX. The conference aims to make an extraordinary impact "sharing a better way in dentistry."
Thursday's events will focus on leading and fostering a diverse team to improve customer service experiences. Friday's speakers will discuss improving your practice's marketing to find new patients. On Saturday, you can learn about refining yourself as a dental professional.  
NDA Convention
The National Dental Convention (NDA) of 2023 will take place from July 14-17 at the Arizona Grand Resort & Spa in Phoenix, Arizona. The 109th annual event encourages equality among minorities in specialized and general dentistry by advocating for students, professionals of color, and their communities. 
Thursday's opening session will feature various speakers discussing the implications of oral health for people of color. You can learn about new technological advancements and procedure opportunities on Friday. Saturday's session will focus on locating and fostering equality in the workplace, while Sunday's speakers will discuss a wide range of topics, including special needs, ethical decision-making, common mistakes, medication potentials, and more. 
SmileCon
SmileCon is an annual event hosted by the American Dental Association (ADA). The 2023 ADA SmileCon will take place in Orlando, Florida, from October 5-7. Each year, the convention takes place in different states. For example, the 2022 Texas Dental Association hosted SmileCon in Houston. 
SmileCon's purpose is to unite dental leaders who share passions for dental academia, research, and industry news. The exhibit floor aims to offer hundreds of CE options for professionals seeking innovative, high-quality, and effective education that can improve the care they provide to patients. SmileCon urges you to invite your entire staff, including assistants, dental hygienists, business associates, lab technicians, and more. 
American Academy of Fixed Prosthodontics Annual Session
The American Academy of Fixed Prosthodontics hosts a session each year, gathering some of the industry's top authorities on Fixed Prosthodontics to spread knowledge, ethical standards, and innovative excellence. The Chicago Dental Society will host this year's event at the Chicago Marriott Magnificent Mile from February 23-25, 2023. 
The gathering provides 13.5 CE credits and offers an educational program discussing the "Comprehensive Management of Prosthodontic Challenges." The event will also include workshops, demonstrations, and lectures discussing breakthrough technologies, patient situations, and fundamental concepts. You can register online for the limited spots by entering your contact information. 
AAE Annual Meeting
The American Association of Endodontists (AAE) will host its 2023 conference in Chicago, Illinois, from May 3-6. If you can't make it to Chicago in May, you can also request virtual versions of all the presented workshops and lectures. 
AAE is a non-profit organization aiming to spread more accessible education to all dentistry professionals to improve patient care. The global resource offers knowledge, education, and research to dental professionals seeking improvement as well as members of the public. The vast networking opportunities, comprehensive educational programs, and endless vendor exhibits make this gathering feel like an international dental show with perspectives from across the globe. 
Conferences for Dental Learning and CE
The Nash Institute for Dental Learning
The Nash Institute for Dental Learning provides world-class CE dental classes in Charlotte, North Carolina. Each year, the institution hosts dozens of programs. You can sign up for any of the following two-day seminars:
Indirect Esthetic Dentistry: Nov. 11 and 12 (2022); Feb 17 and 18 (2023); May 12 and 13 (2023); August 18 and 19 (2023); Nov. 17 and 18 (2023)
Full Mouth Esthetic Reconstruction: Dec. 9 and 10 (2022); March 24 and 25 (2023); June 23 and 24 (2023); Sept. 15 and 16 (2023); Dec. 8 and 9 (2023)
Direct Composite Resin Dentistry: Jan. 20 and 21 (2023); April 21 and 22 (2023); July 7 and 8 (2023); Oct. 20 and 21 (2023)
Dental Business School: June 9 and 10 (2023); Oct 27 and 28 (2023)
All two-day seminars run from 8:30 a.m. to 5 p.m. with lunch provided. You can receive a discount if you stay at the Hampton Inn or the Comfort Suites in Huntersville, North Carolina. Simply call the front desk and tell them you're attending a Nash Institute event. 
Catapult Education
Catapult Education is another leading CE course provider now offering virtual webinars and online classes for convenient at-home or in-office learning. You can attend in-person and live webinars with various industry professionals on pressing topics like the changing dental market, low-stress implant and replacement options, and more. Many webinars are free to enroll in and offer acceptable CE course certifications. 
A few upcoming webinars include the following:
Exit Strategies in a Changing Dental Market on December 1 at Henry Schein Dental in Lombard, Illinois, from 6 to 8 p.m. for two CE credits
A Unique Universal Composite for Predictable Direct Restorations online on November 9 for one CE credit
Implant Retained Removables online on November 21 for one CE credit
Local Events and Chapters 
While attending a national conference may offer widespread perspectives, not everyone has the time or funds to fly to the New Orleans Dental Conference or other popular conference locations. Local events offer more intimate settings with excellent local networking opportunities. A few examples include the following:
Seattle Study Club Symposium: The Seattle Study Club offers events throughout the year, from in-person conferences and local gatherings to summits in exciting locations. 
Florida Association of Orthodontists: The Florida Association of Orthodontists offers an annual two-day meeting in Tampa, FL. 
Inland Northwest Dental Conference: The Inland Northwest Dental Group will host a two-day CE event in Spokane, Washington, from May 11 through 12, 2023, with networking opportunities, exhibits, and entertainment.  
Central New York Dental Conference: The CNYDC, held in Syracuse, NY, is central New York's only dental convention, offering specialty speakers and more.  
Rocky Mountain Dental Conference: The RMDC will take place on January 19 through 21, 2023, with in-person classes and select online downloadables available.
The Texas Dental Association Meeting: The Texas Dental Association will host its annual meeting in San Antonio from May 4 through 6, 2023. 
Southwest Dental Conference: The Dallas County Dental Society offers an annual conference showcasing modern technology and equipment. 
CDA Presents: The California Dental Association hosts a showcasing event each year for you to network your brand in San Francisco, California. 
Mid-Continent Dental Congress: The MCDC meeting offers workshops, lectures, and special events in St. Louis, MO. 
Conferences for Office Managers
AADOM
The American Association of Dental Office Management will host its annual convention from September 7 through 9, 2023, in Orlando, Florida. You can in become an exhibitor to showcase your office's products and services to over 1,000 like-minded office professionals. If you'd rather spend time soaking up information, you can join as an attendee to float from booth to booth, learning how other managers run their practices.